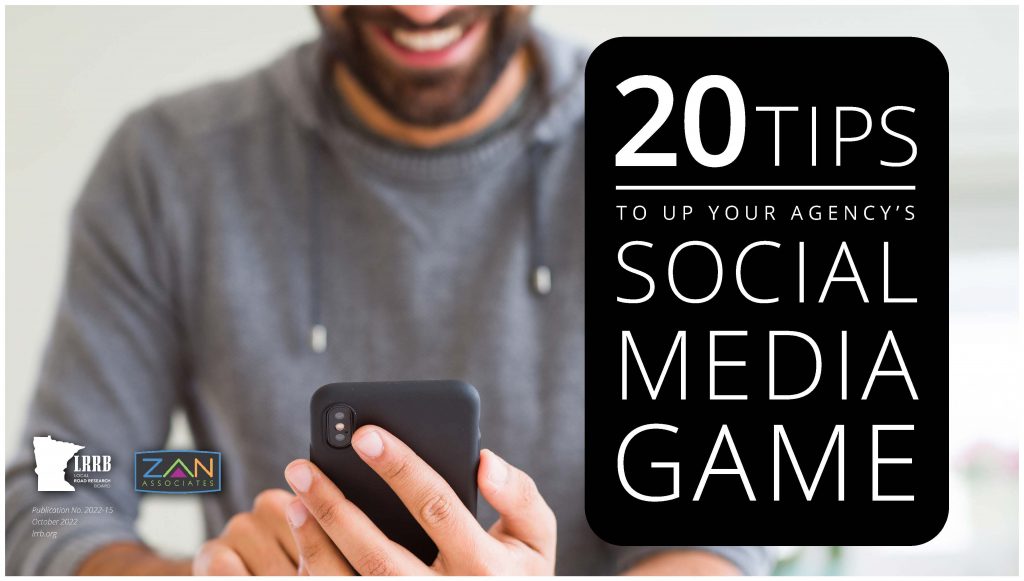 One of the best ways to connect with communities about projects and events that affect them is to reach them where they already are – on social media. But whether you're a social media newbie or a communications professional, there are always new trends, technology, and platforms to learn, and it can be overwhelming.
That's why the Local Road Research Board put together the guidebook, 20 Tips to Up Your Agency's Social Media Game. It's designed to help the average local transportation practitioner identify best practices to communicate with residents more effectively on social media for transportation and public works topics.
The LRRB conducted a literature review, several interviews and multiple focus groups with government communication experts to identify the best practices in social media for transportation/public works communications, as well as gaps in available guidance.
Additionally, 72 transportation practitioners from 63 agencies completed an online survey to identify current use of social media and social media challenges faced by public agencies in Minnesota.
LRRB identified two primary areas that could benefit from a best practices guide focused on local agencies:
Transportation and public works-specific communications
Small agencies without dedicated social media or communications staff
The guide offers real-world examples that document best practices and lessons learned by public agencies across Minnesota. It's divided into 20 handy tips that users can implement easily on topics including:
Knowing your audience
Choosing the right platform
Maintaining your brand
Creating shareworthy content
Growing followers
Receiving and responding to complaints
Handling negative input
Being inclusive
Making content accessible
Promoting your social media accounts
Creating a social media policy
Using social media management tools
Advertising
Resources