Thursday, Sept. 15, 1 to 2:30 p.m.
Attend via Zoom, registration not required
Interested in learning about innovations from local agencies around the country? Join this webinar to hear from the winners of the 2022 Build a Better Mousetrap National Recognition Program!
Local agency staff will share how they developed winning innovations that solved problems in their maintenance and emergency management programs. These efforts saved time and money—and increased safety for their frontline workers and communities.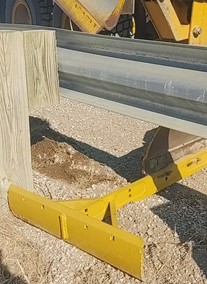 Special guest speakers:
Jason Johnston, Walsh County Highway Department, North Dakota

Bold Steps Award Winner (pictured at right)

Innovation: Guardrail Maintainer, a tool to easily remove debris from around guardrails to keep the roads clear.

Isabel Olivieri, Autonomous Municipality of Toa Baja, Puerto Rico

Smart Transformation Award Winner

Innovation: Public Survey Tool for Emergency Events, an electronic survey tool available via social media for residents to report flood damage during emergency events.
Build a Better Mousetrap is a national initiative by the Federal Highway Administration's Center for Local Aid Support to recognize frontline workers who use innovative solutions in their transportation programs. The Minnesota competition is sponsored by the Minnesota Local Road Research Board and administered by Minnesota LTAP.
Questions? Contact the FHWA's Local Aid Support team at CLAS@dot.gov. 
Learn about this year's Minnesota Build a Better Mousetrap Award Winners.
Submit Your Ideas to the Minnesota Contest
Submit your agency's innovations to the 2023 Minnesota Build a Better Mousetrap Competition, and next year you could be among the winners! To enter, please:
You're also encouraged (but not required) to submit photos and short video clips showcasing your project along with your entry form. The deadline is May 15, 2023, but submissions are welcome throughout the year.