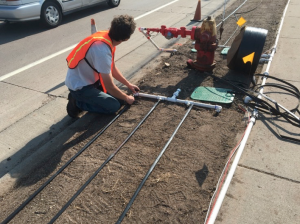 Turfgrasses planted along the 24,000 acres of Minnesota roadways and other roadside sites are often difficult to establish due to stressors such as heat, drought and salt from winter maintenance. Over years of research, Minnesota transportation agencies worked with the University of Minnesota's turfgrass scientists to find more salt-tolerant turfgrasses. The current new mix of primarily fine fescues is more resilient to salt, but installations have not been as successful as expected.
Researchers found that the new turfgrass needs better irrigation early on to thrive. For this project, they designed five new watering systems and tested them along urban roadways. They showed that an easily constructed drip irrigation system supplied by a fire hydrant provided the irrigation the fine fescue mix needed. This watering system costs less and uses less water than common truck watering methods. Investigators also tested spray nozzles for water trucks and selected two that were effective for new turfgrass installations far from hydrants.
The research team then developed a comprehensive online course for turfgrass installers. They also created a website providing guidance to homeowners living near new turfgrass installations. Next steps will need to address changes in the standards and specifications of transportation agencies regarding turfgrass installation.
Helpful Links