Lake of the Woods County's Minnesota Mousetrap award winner is one of five projects featured in the Federal Highway Administration's 2022 Build a Better Mousetrap Showcase video.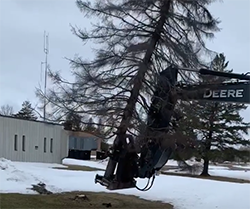 The project, a modified shear attachment for excavators, provides a quicker, safer process for removing trees from rights-of-ways. The device is designed to be used instead of hand saws and chainsaws, which are both time-intensive and unsafe due to falling trees. The county purchased a used shear head from a logger and retrofitted it to attach to their excavator. The attachment also saves money because it eliminates the need to buy a logging equipment just for this purpose that is used for a short amount of time each year.
Build a Better Mousetrap is a national initiative by the Federal Highway Administration's Center for Local Aid Support to recognize frontline workers who use innovative solutions in their transportation programs. The Minnesota competition is sponsored by the Minnesota Local Road Research Board and administered by Minnesota LTAP.
Submit Your Ideas to the Minnesota Contest
Do you have your own innovative idea to improve the way to do a job? Submit your agency's innovations to the 2023 Minnesota Build a Better Mousetrap Competition, and next year you could be among the winners! To enter, please:
You're also encouraged (but not required) to submit photos and short video clips showcasing your project along with your entry form. The deadline is May 15, 2023, but submissions are welcome throughout the year.