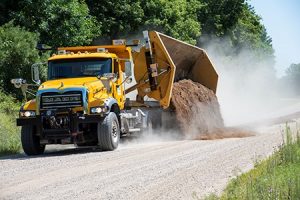 Hauling is an essential function for nearly all Minnesota road agencies. But capacity limitations often lead to a continual procession of dump-truck trips while also consuming lots of staff time and incurring other expenses, such as fuel and vehicle wear and tear.
Inspired by lessons learned from the Minnesota Truck-Weight Education Program, Nicollet County Public Works staff sought to adapt a Mack Super Truck from its usual winter snowplow configuration to also haul a much larger side-dumping trailer in summer.
Nicollet County Public Works received a $20,000 grant through the Local OPERA Program to find a way to connect a side-dumping trailer to a universal plow truck chassis and use it to increase the agency's legal load capacity.
County public works staff had discovered that a side-dumping trailer could haul more than twice as much as a conventional dump box. But, to make it work, they needed a side-dumping trailer compatible with the hydraulic pump used for snowplow equipment on the Super Truck. Maintenance staff spent many hours of research before settling on the purchase of a Trail King side-dumping trailer.
Once the Super Truck with the new side-dumping trailer was operational, the Nicollet County team quickly found the vehicle was good for hauling more than just gravel as initially intended. In fact, the combination has become one of its most used pieces of equipment, primarily because it has increased productivity without increasing the size of the maintenance crew.
Helpful links: