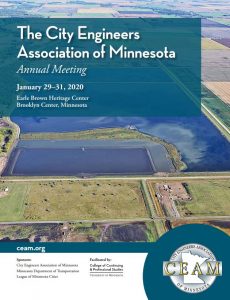 The City Engineers of Minnesota Annual Conference will be Jan. 29 – 31, 2020 at the Early Brown Heritage Center in Brooklyn Center.

The conference offers opportunities to see how other cities are using new technologies and developing innovative construction projects, as well as a chance to network with other professionals and peers.
Make sure to check out the "LRRB Update" at 9:20 a.m. on Thurs. Jan. 30, 2020.
"An update of a workshop on recommended trail pavement management and maintenance practices, as well as associated amenities such as vegetation,drainage, signing/striping, and lighting, resulting from the Local Road Research Board efforts for the benefit of City Engineers."
Russ Matthys (City of Eagan) and  Mike Marti (SRF Consulting Group, Inc.) will moderate the session.
Visit the City Engineers Association of Minnesota for the full agenda.