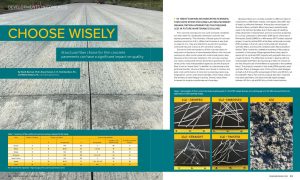 "Thin concrete overlays are one such economic rehabilitation alternative for moderately distressed concrete and asphalt pavements. The thickness of these types of concrete overlays varies from 3-6 in. When the thickness is less than or equal to 4 in., they are referred to as ultra-thin overlays; otherwise they are known as thin concrete overlays."
A recently completed research project, funded by the LRRB and MnDOT, is featured in the January 2020 edition of Roads & Bridges.
In today's dwindling budgeting scenario, state DOTs strive for long-lasting pavement rehabilitation alternatives that require less in future maintenance dollars. Tiny bits of fiber have been making a big difference in concrete pavements.
Researchers tested the use of structural fibers in thin concrete overlays—specifically looking at the fiber's ability to keep cracks from widening. Researchers studied the ideal mixture rates and tested procedure recommendations for future projects using fibers.
The next phase of this work will be to evaluate the performance benefits of fiber-reinforced thin concrete pavement and overlays. In 1017, the National Road Research Alliance (NRRA) constructed seven fiber reinforced concrete test cells and one plain concrete control test cell at the Minnesota Road Research facility (MnROAD) at Albertville, MN.
These cells are equipped with different types of sensors for measuring
dynamic strain due to wheel load
strain induced by the environmental forces
temperature gradient
joint movement
The sensor data and periodical distress or performance information will be analyzed annually throughout the duration of this research project (three years, starting Nov. 2017).
Visit the research project page, to subscribe for updates.